Clearly you've never been to Singapore… the words of Captain Jack Sparrow of Pirates of the Caribbean fame, who clearly believes Elizabeth Swan has seen nothing of exotic world outside the islands.
How shocked he would be today.
I have been to Singapore once. During a long layover, on my way back to Australia after a whirlwind trip to Europe (but that's a story for another day). I was originally scheduled to go through Guangzhou in China, but given a previous 18-hour layover in that airport I was in no rush to revisit.
So, Singapore it was.
I was traveling solo (as per usual) and had arrived at Changi Airport early in the morning. One of the coolest perks of flying with Singapore Airlines is that if you have a layover of more than 5 hours, you can see the city for free. The airline and the airport have jointly organized a complimentary 2-hour tours for travelers in transit. A marvelous idea!
One I did not have the smarts after an overnight flight from Amsterdam, on which I couldn't sleep because I was too worried about falling from the sky and dying… (again, another story for another time).
I arrived at Changi, heavy carry-on in tow. I hung around the airport long enough to take advantage of the shower facilities, but not long enough to grab any food. I would just grab something in town! I want the real food, not the airport cuisine!
The first thing you'll notice about Singapore, it's not a breakfast town. It was amazingly quiet for a weekday morning. Hardly a soul to be seen. And when I did pass people, it was usually expat women chatting with American accents while they were out for their morning exercise. Not exactly that exotic paradise of Captain Jack Sparrow's description. But that was fine – it just felt good to get out and move my legs!
I had a few things on my checklist for my 15-hour layover in Singapore. That should be plenty of time to see the city, right? First stop: One Fullerton. This is the home of the famous Merlion, which the mascot and national personification of Singapore. It also sits on the bank directly opposite the Marina Bay Sands, of infinity pool fame. Everyone has seen those seemingly death-defying photos of people leaning over the side of the pool, the whole of Singapore laid out multiple stories below them. I would have loved to go up there, but alas, in my inability to research before trips, I had no idea they have an observation deck available to the public.
So I missed out on that bucket list item… oops. By this time I was getting pretty hungry, so I wandering aimlessly trying to find a place to grab an authentic Singaporean meal. Yeah… that doesn't happen in the morning. I ended up wandering into a shopping mall and stopping by a food court stand that was the only open place in the entire building. And I ate whatever dish I ordered (I can't even remember) in a completely quiet dining area. Let's just say this was a case of get in, eat, and get out. But at least now I was fueled for more exploring.
And this is where is all turned south. I don't know about you, but after long-haul flights my ankles are pretty much non-existent. So my shoes, that were normally quite comfortable for long periods of time, were a bit tight. The humidity didn't help either. In comes, my favorite thing… blisters. Okay, let's head over to Orchard Road, where at least the malls were opening and people were beginning to stir. I bought a pair of sandals, hoping for relief. I was to be disappointed. By this time my jet lag was kicking in, my feet were throbbing, and my overstuffed carry-on was beginning to become unbearable. Not to mention my lovely "summer dress" was become so soaked with sweat that my earlier shower was soon to be pointless. This is when I gave up. I marched by tired, defeated self back to the airport and took advantage of perhaps its best feature: the napping areas. I didn't even get my coveted Singapore Sling at the Raffles Hotel. And I didn't even care.
This was one of my only truly misses, when my desire for spontaneous wandering proved to be less rewarding that doing research and planning an itinerary. Has anyone else had similar experiences? It is now my intention, dear Singapore, to visit you again one day. And this time, I'll get that Singapore Sling, sans blisters.
---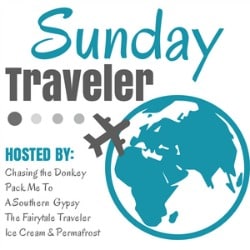 This post was written as part of the #SundayTraveler series, hosted by Chasing the Donkey, Pack me To, A Southern Gypsy, The Fairytale Traveler, and Ice Cream & Permafrost. Check them out for other grew travel posts, and don't forget to add your own!